EEX Group Excellence Award
The EEX Group Excellence Award will be presented for the tenth time in 2020. This Award honours outstanding research papers that deal with current political, regulatory, technical or economic questions in the fields of energy and agricultural products as well as exchange trading of both. Moreover, the focus can also be on subjects of sustainability.

The award includes a prize of EUR 1,000 for each of the winners and the opportunity to attend the EEX Exchange Trader Course free of charge.

Applications for the 2020 EEX Group Excellence Award can be submitted until 31st October 2020.
The research paper must be completed in the second half of 2019 or in 2020 and written in German or English.
Documents to be submitted:
Curriculum vitae (at max. 2 pages)
Summary providing information on the subject, aim, methodology and result of the paper (at max. 5 pages)
Full paper
Letter of recommendation of the responsible lecturer or academic supervisor substantiating the merit of the paper
Please send your application in English or German via e-mail to Clara Steffes  by 2020/10/31.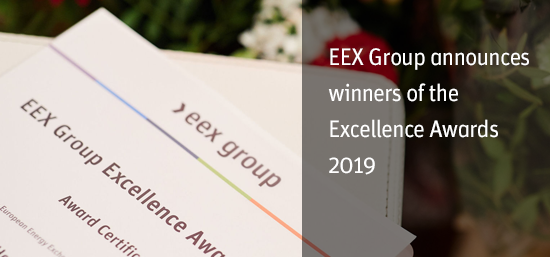 For the ninth consecutive year, the Excellence Award honours outstanding academic theses.
In 2019 the awards were presented to:
Max Baumgart: Electricity grid expansion obligations of the EU Member States under EU primary law, Dissertation, University of Cologne / University of Basel,
Stephania Mosquera Lopez: Drivers of Electricity Price Dynamics: Comparative Analysis of Spot and Futures Markets, Research paper, School of Industrial Engineering, Universidad del Valle, Colombia,
Gunther Glenk: Economics of Renewable Hydrogen, Dissertation, Technical University Munich, Germany
Joachim Reinhardt: Regional and Temporal Aggregation of Time Series, Master thesis, Free University of Berlin, Germany,
Jonas Peltner: Optimum price hedging for raw milk using cross-hedging with butter and skimmed milk powder on the commodity exchange, Research paper, Institute of Food Economics Kiel, Germany