Reuters Commodity Trading Summit
EEX Group was proud to partner with Reuters Events as gold sponsor of the Reuters Commodity Trading Summit 2020. During the digital conference, EEX Group participated in a number of high level discussions which addressed the key topics that face the capital markets industry today – Volatility, Sustainability and Growth. If you did not get the opportunity to attend the conference, you can view the three EEX-related events below.
Adjusting the Course
Hedging Risks and Supporting Sustainable Growth Through Markets
4th November 2020 
Recent developments at a global level have redefined the concept of risk across industries and geographies. Climate change-induced events, as well as the COVID-19 pandemic we're still living through, have affected economic activities of all sorts. They also show the need for more global sustainability commitments. Markets are proving to be instrumental in helping economies manage risk and at the same time, supporting sustainability: for instance, freight markets offer effective hedging instruments to protect global trade from unforeseen events, power markets sustain renewable energy development and carbon markets provide solid price signals driving clean investments while clearing houses ensure the stability of the overall economic system. The panel addresses the key role that markets have played – and will play – in promoting a sustainable and green recovery from the pandemic-related economic crisis through better risk management.
Panelists
Peter Reitz, Chief Executive Officer, EEX
Rodolphe Bocquet, Global Head of ESG, Qontigo
Véronika Milewski, European Affairs Manager, Sustainability, EDF
Moderator
Becky Christmas, Project Director, Reuters Events

Watch the recording below.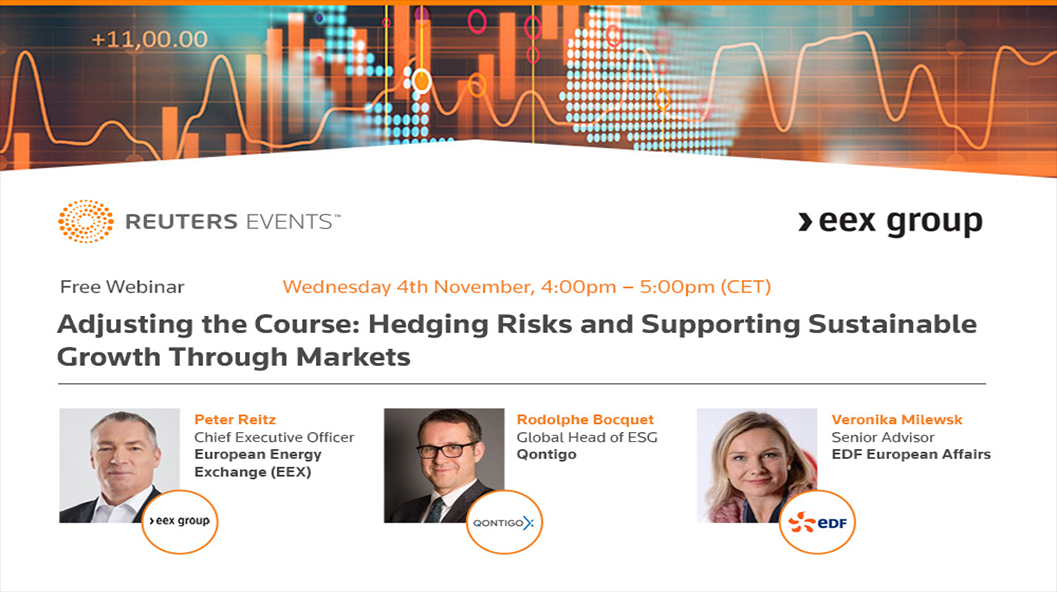 Driving Freight Forward
Roadmap to growing the freight markets of the future
9th November 2020
The competitive landscape of Forward Freight Agreements (FFAs) and options freight clearing in the dry bulk market has undergone seismic change in the past decade. Fast forward to today where two exchanges remain – SGX and EEX Group. In this wide ranging panel discussion, moderated by John Banaszkiewicz (Freight Investor Services), senior figures from EEX Group, SGX and The Baltic Exchange discuss the current state of the Dry Freight market and provide in depth insights on the opportunities and challenges that lie ahead as both exchanges continue to follow their strategies to drive freight forward
Panelists
Richard Heath, Senior Manager - Group Strategy, EEX Group
Ray (Ang) Zhi Rui: CEO, EEX Asia
Mark Jackson, CEO, The Baltic Exchange
William Chin, Head of Commodities, SGX
Moderator
John Banaszkiewicz, CEO & Owner of Freight Investor Services.

Watch the recording below.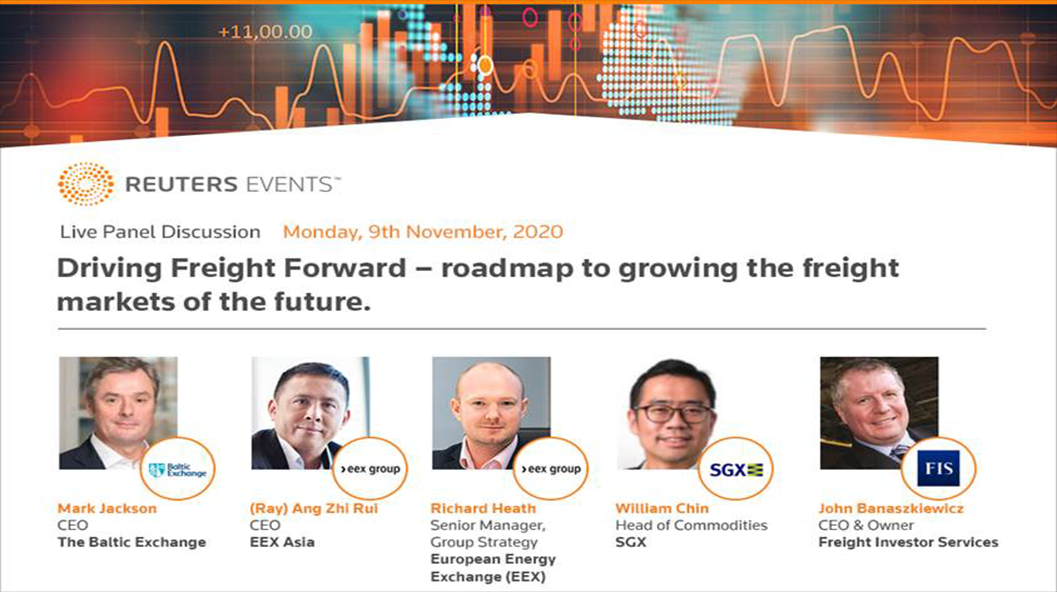 How Resilient is the Energy Market Through Volatility?
9th November 2020
In this high level panel discussion, the participants discuss how the energy markets are coping with the current COVID crisis and explore how exchanges can add value and certainty in times of high volatility. Furthermore, the panel examines the risks and opportunities which exchanges face post pandemic.
Discussion points:
What are the short and long-term impacts of negative oil price trading, retro-active pricing and future pricing on energy producers, traders and buyers?
What are the current challenges and opportunities for energy market stakeholders and traders?
How is price discovery and transparency affecting the market?
How will and how should the energy market be reshaped in 2020 and beyond?
Panelists
Peter Reitz, EEX CEO
Stuart Williams, President ICE Futures Europe Intercontinental Exchange
Martin Fraenkel, President S&P Global Platts.
Moderator
Will Acworth, Senior Vice President FIA

Watch the recording below.