"Sustainability is at the heart of everything we do. It's a core part of our vision, it's a core part of our strategy, it's a core part of our DNA"

Peter Reitz, CEO of EEX
2021 – placing sustainability at the heart of our business
As the world has come to a crucial point in its fight against climate change, companies and countries need to drastically accelerate their efforts to meet the targets set out in the Paris agreement. EEX Group is committed to contributing to that change and, through the creation of innovative products, proactively enabling the energy transition and placing sustainability at the heart of our business.  We are committed to facilitating the phase-out from the old world to a new, more sustainable world by providing a transparent price formation for CO2, the right flexible instruments to trade renewables along with risk mitigating tools, and by allowing the tracking for the origin of renewable energy, while setting ourselves ambitious targets which help us transition to become a greener, cleaner company.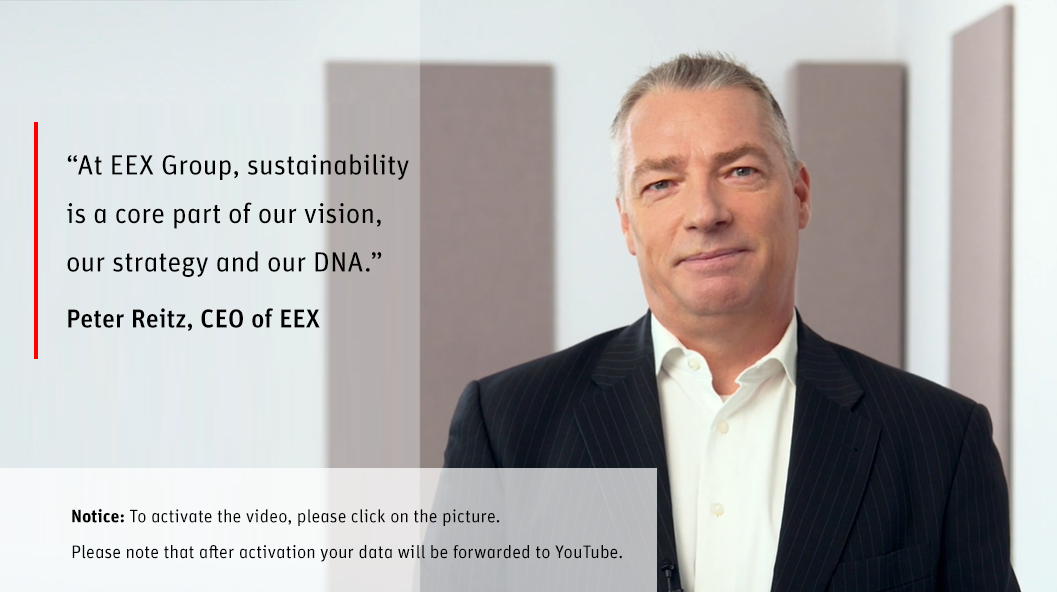 Notice: To activate the video, please click on the picture.
Please note that after activation your data will be forwarded to YouTube.
Creating transparency through our ESG Dashboard
In 2021, EEX Group created its ESG Dashboard, which gives a comprehensive overview of specific KPIs with regard to our Environmental, Social and Governance targets, making it possible for us to measure our carbon footprint and, in doing so, contribute to a more sustainable workplace.
Business model (e.g. sustainable product offerings, awareness)
Office behaviour (e.g. reducing CO2 emissions, events)
Human capital development (e.g. training and education, diversity)
Human and labour rights
Charity and donations
Good corporate governance (e.g. integrity and compliance, conflict of interests)
... our EEX Group ESG Dashboard monitors our carbon footprint:
Scope 1: Direct emissions (e.g. fuels used for combustion, company car fleet)
Scope 2: Indirect emissions from energy use (mainly electricity and heating)
Scope 3: Indirect emissions from business (e.g. flights, hotel stays, transport)
The difference between our 2019 and 2020 emissions has been pandemic-induced due to less business travels. However, we are continuously improving our policies to lower our emissions within EEX Group, e.g. by updating our car fleet policy in 2021 and by encouraging colleagues to use more sustainable alternatives for business travels (e.g. via train).
Climate neutral company
In 2021, we compensated 101 tonnes of CO2 and are therefore a climate-neutral company for the 7th year in a row.
... our sustainable product offerings and initiatives:
The origin of renewable energy
Guarantees of origin are the mechanism in place at EU level to track renewable electricity. It enables suppliers to offer green electricity to their final clients and, hence, places the consumers in the driving seat of the energy transition. GOs are an indispensable tool to promote the production and consumption of green electricity. At EEX Group, we have developed our expertise across the whole registries' value chain, from providing unique services to Issuing Bodies across Europe to organising GO auctions, passing by operating registries ourselves. We have experience in all types of energy carriers' traceability, i.e., renewable electricity, biogas, hydrogen as well as Heating & Cooling GOs. Armed with this experience, we will launch the first pan-European electricity Guarantees of Origin market in 2022. The planned GO spot auctions will be held once a month and operated by EPEX SPOT, Europe's leading power spot exchange, under the exchange's membership and market rules. We are also committed to sustainability in fostering energy efficiency. As such, EEX is responsible for managing the French Energy Savings certificates registry in France, which is the key asset of the French policy to reduce carbon emissions and energy consumption.
… our social numbers and initiatives:
Work-Life-Balance
Our ESG Dashboard also tracks factors to improve the work-life-balance of our employees. Flexible working hours as well as the possibility to work from home makes it possible for our employees to ideally combine work and private life. Our EEX Group employees are our strongest asset – that is why their satisfaction is so important and is reviewed annually. In 2021, 92% of the employees would recommend working at EEX Group.
Diversity & inclusion
As a global company, employees of different gender and gender identity, nationality, ethnic origin, religion or belief, disability, age, sexual orientation and identity work within the EEX Group. Our goal has always been, and still is, to strengthen the appreciation, recognition and inclusion of diversity within EEX Group. We want every colleague to be equally valued and supported.
This is an ongoing process, that every individual colleague should be working on day by day. For this process it is important to stay open-minded, learn from each other and appreciate the people around us. Together we follow the path of diversity and share our experiences and perspectives within EEX Group. We are on this journey, together.
We are supporting different initiatives on our path of diversity – for example the "marketPride" network of Deutsche Börse Group with worldwide participants on five locations.
… our governance factors:
The ESG Dashboard monitors different regulatory and compliance issues of EEX Group on the topics of information security, corporate governance structures, conflicts of interest, risk management or anti-corruption and anti-bribery measures as well as internal trainings on them. Measuring KPIs on these topics on an annual basis will make sure EEX Group stays secure and future-proof for its customers and employees for years to come.
Here you can find out more on how EEX Group provides security.
"Especially in challenging times, EEX Group is offering transparency and security to all of its stakeholders. Risk management is one of the key elements on our mission to build secure commodity markets worldwide."

Dr Clemens Völkert, CRO of ECC